It's an absolutely humbling experience to have literally hundreds of people looking at you with their eyes telling a story of thei
r own hopes and dreams.... There's a feeling that what you have attained for yourself--although only relatively short-lived, for a year--is a lifetime venture. It's a feeling of destiny.
Laurel Lee Schaefer Miss America 1972
Each
year I am part of a team that spends MONTHS planning 1 event however this one event is worth every bit of it.

Each year the Got Your Back Network takes 8-10 families of surviving spouses and daughters of our fallen heroes to Las Vegas for 4 days with the culmination of the trip being the Miss America pageant.

This is my 3rd year as part of this trip and each year my role has grown.

The first year I felt that I was there more as a volunteer and observer however this year I was a larger part of the planning, the family contact and each event in Las Vegas.

I must say that calling each family to invite them was a highlight; one family cried then another just screamed – I can't stop smiling just thinking about those calls.
Our guests and volunteers traveled from around the country into Las Vegas Thursday January 10, courtesy of American Airlines. Each family stayed at the Planet Hollywood Resort & Casino, home of the Miss America Pageant (and to one young ladies excitement, Coco from Ice T and Coco was there as well).

At our Thursday night dinner we were treated by a special guest, Chris Harrison from The Bachelor and 3 service members from the Joint Chiefs of Staff office as well as 2 local Miss America and MAOT titleholders.

A great way to get to meet each other face to face and see the excitement for what was coming next.




On Friday each family participated in a photoshoot at the El Dorado Mines in Nelson, NV.

We had such a good time touring the mines, then each mother and daughter had their hair and makeup done before their individual photo shoots.

The town has been host to photo shoots and video shoots for Luke Bryan and Beyonce!

Cheyane, daughter of 2nd LT Mark Gelina, recreated the cover shot of Luke Bryan's CD with the help of Joe-Bec whose family owns and operates the mines.




Friday night after a wonderful dinner at the Rattlecan, a wonderful restaurant inside of the Venetian the mom's and older girls were treated to the Rock of Ages musical show while our younger princesses took part in a Princess Pajama party.

Everyone had such a wonderful time and we were passing cell phones of pictures down the line to show each mom the fun her daughter was having. This was another late night but seeing the smiles and hearing all the laughter makes it worth it... besides it's VEGAS!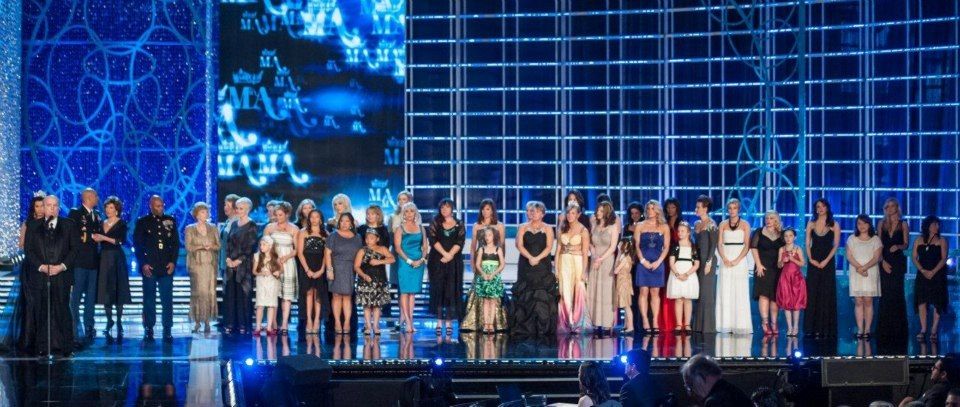 Former Miss America's, honored families of our fallen on stage for a group picture
Our VIP families were then royally pampered Saturday at the Canyon Ranch Spa, had a mini trunk show of gowns, received gift bags of donations from some amazing companies just before each young lady was crowned.

Then off to change and head to Miss America for another big surprise...each family was honored in the Miss America preshow!

They walked across the Miss America stage while a short biography was read about their loved one, they received a special coin from Col Henderson and LTC Forbes and were then 'pinned' as an honorary Miss America.

The audience listened to each introduction so intently and I was humbled and proud of each families strength.

As the families made their way back to our AWESOME seats they were met with another standing ovation... I get goose bumps just thinking about it.
After the pageant and our good-byes (everyone had different flights out Sunday), Kathleen and I headed out to enjoy the sights in Vegas a bit.

We met up with a few friends and next thing we knew we were taking photos with the new Miss America Mallory Hagen!

First I want to say that she is the sweetest young woman and seems incredibly down to earth, second of all we had no intention of meeting anyone besides our friends we had dressed down for the night and here we were taking a photo in our JEANS!

Good grief!

We also ran into Janice McQueen my friend and director of the Mrs CA & NV United States Pageant, then Gaspar Cruz and Miss WY Lexie Madden (another young lady that seems you could meet up with for a burger or a black tie gala).

Kathleen and I along with the COL and LT Col were attended the 'Formers' get together where I was excited to meet Lee Meriwether and Leanza Cornett along with Heather French and many others; I may not have to point this out however this was a pageant girls DREAM as I watched so many of these women get crowned and looked up to them.
I left Las Vegas bright and early Sunday morning, flew home and then drove 2 hours to central California to be part of my husband's Army promotion.
As with each year I am so grateful to be part of an organization that makes events like this possible, being able to meet so many wonderful women and their daughters and knowing in my heart that my family just got a little bit bigger.

I am also thankful to all of our wonderful and generous sponsors each year because without you no part of this would be possible.

I am already planning ideas for NEXT YEAR!

I wish our new Miss America, Mallory Hagen, a wonderful year of memories and service.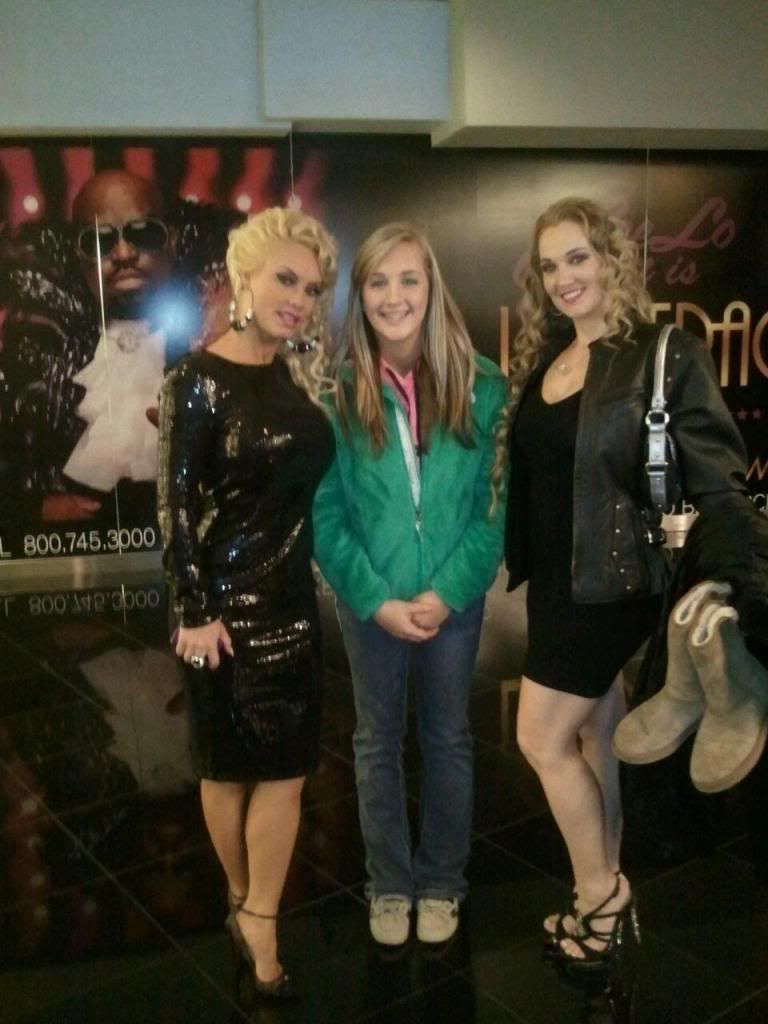 Cheyane meeting Coco and her sister at Planet Hollywood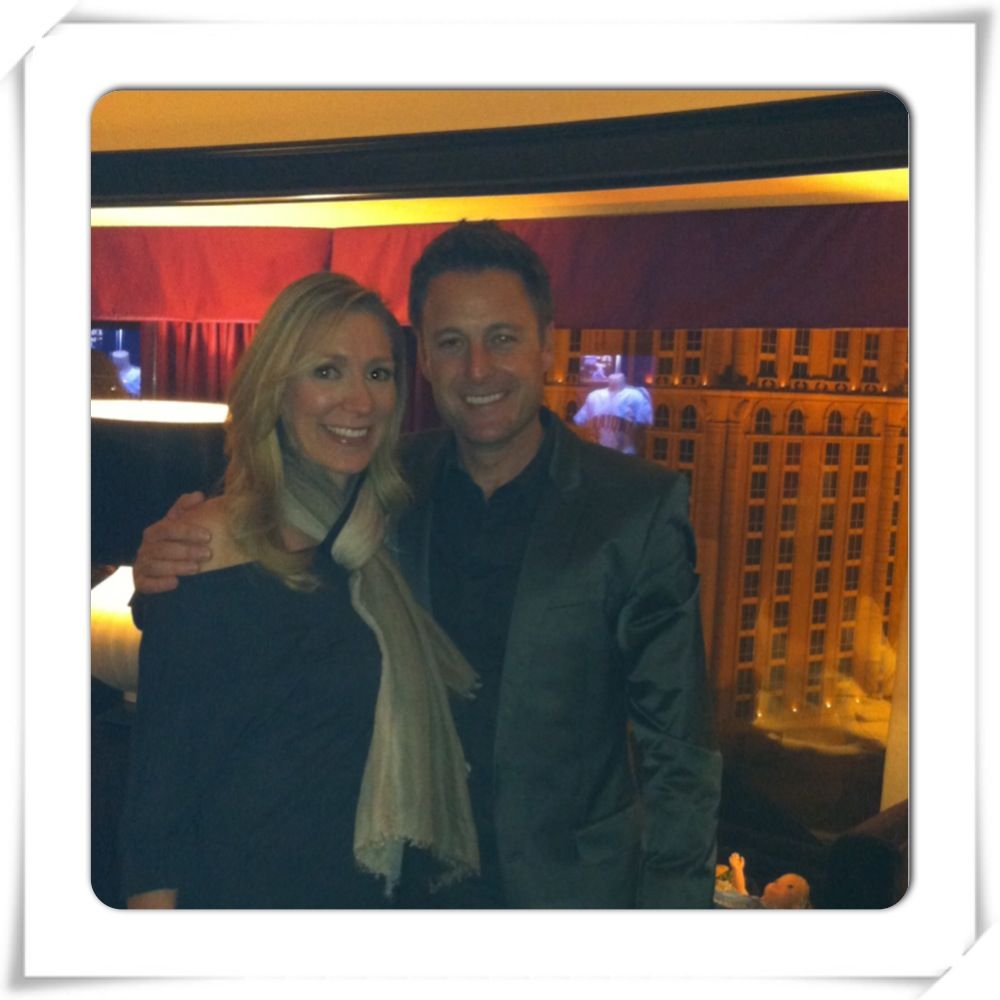 Chris Harrison and I at Thursday night's dinner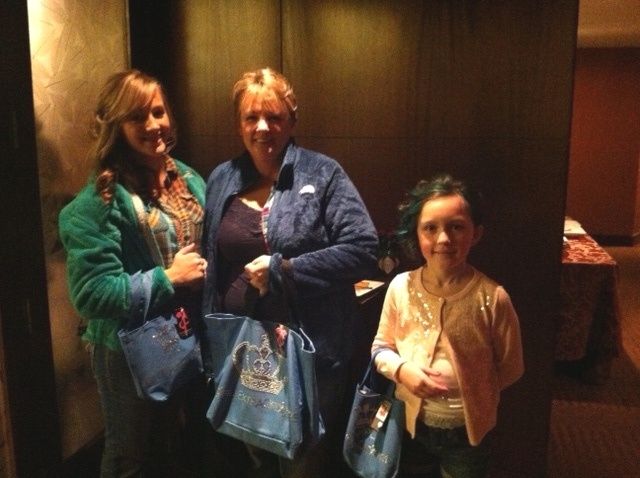 with their Girl ExtraOrdinaire gift bags